Born Mezcal Lovers
Los Siete Misterios was born from the mission to preserve the passion, traditions, and culture embodied in Mezcal production. We, Eduardo and Julio Mestres, spent decades sampling Mezcal from villages across our native Mexico. Local Maestros Mezcaleros use methods passed down through generations to produce authentic, super-premium Mezcal. We partnered with these families and created our own distillery to collaborate and produce traditional Mezcal. Los Siete Misterios is a family created by us, the Maestros Mezcaleros, and the Oaxacan communities to share our dedication to Mezcal and the Mexican Spirit.
We seek to respect Mezcal traditions and customs. Our partnership with Maestros Mezcaleros across Mexico helps these families continue to create authentic, ancestral Mezcal and support local Mexican workers. We collaborate to ensure all our palenques, or distilleries, follow traditional production methods.
Young Mezcal of varying alcoholic content.
Distilled with only 100% natural agave sugars that come from ripe plants.
Produced using traditional techniques: cooking in underground ovens, milling manually with wooden mallets or by Chilean Tahona horses, fermenting naturally with no added chemical agents, and distilling twice in locally, hand-made clay pots.
Artisanal and limited production to preserve the whole spirit, heritage, and tradition of Mezcal.
Every Great Mezcal starts with the right production process. At Los Siete Misterios, we ensure every detail supports creating the highest quality Mezcal.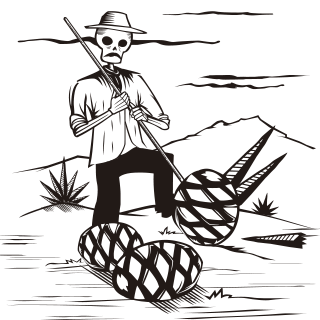 HARVEST
Agave is the most important material. We only use mature agave plants grown in our nurseries in Oaxaca.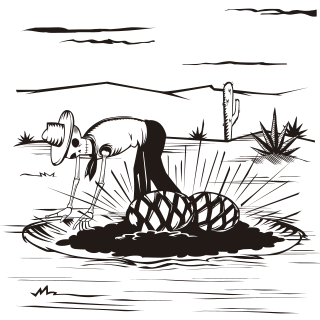 ROASTING
Agaves are roasted in traditional underground ovens made of earth and stones. Mezcaleros use local wood to fuel the fire and place river stones on top, which get extremely hot. The agaves are placed on the stones and roast for three to five days.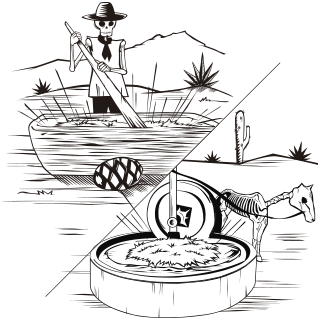 MILLING
Once cooked, the agaves cool for a few days before the milling process. We follow two milling techniques. Either traditional Chilean Tahona horses or Mezcaleros using a hand-carved wooden mallet separate the agave fibers.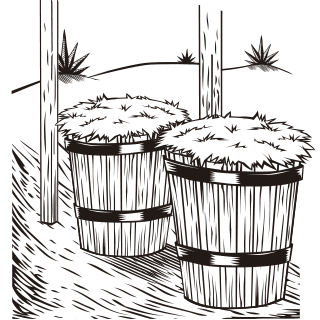 FERMENTATION
We then place the juice and fibers in large wooden vats where they are exposed to open air. The Mexican temperature and local regional yeast naturally ferment the agaves. We do not add anything except pure spring water to reach our ideal proof.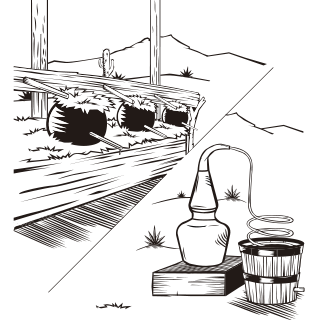 DISTILLATION
We use two distillation techniques. Our artisanal Mezcals are distilled in copper pots while our ancestral Mezcals are distilled in ancestral clay pots. In both techniques, we uphold tradition by distilling twice.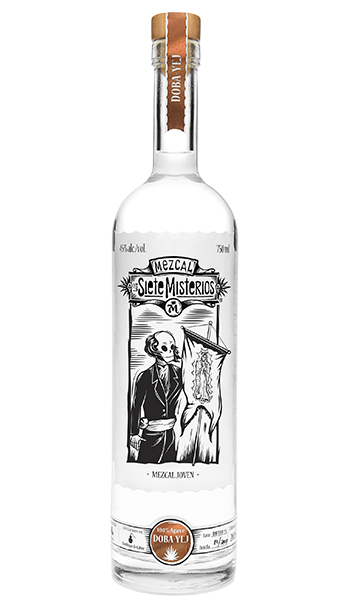 DOBA-YEJ
After three years of watching the world fall in love with Mezcal, we noticed an opportunity to reach more people and diversify the way to enjoy Mezcal: through cocktails. The Doba-Yej, which means Espadín in the ancient Zapotec language, is a well-balanced Mezcal perfect for enjoying neat or in cocktails. It is our first copper-still distillate made outside of Sola de Vega.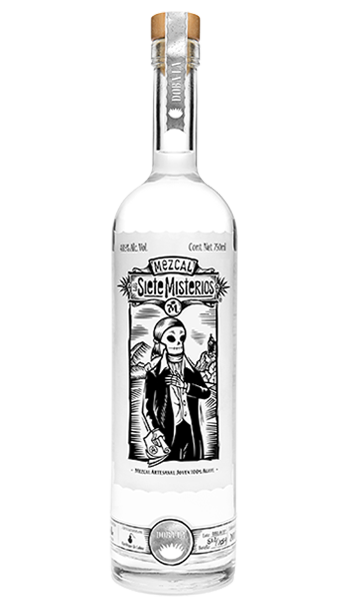 DOBA-LA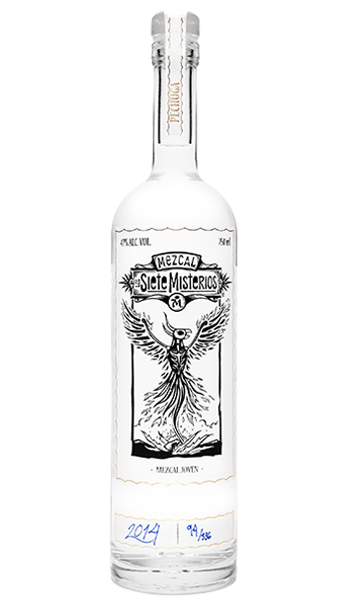 PECHUGA
With seven different Mezcals under our belt, we wanted to pay homage to the Mezcaleros and their families. We are eternally grateful for everyone who shared their experiences and lessons passed down over generations. Our Pechuga Mezcal celebrates the friendship among Mexicans and our combined effort to rescue our Mexican traditions. With an annual production of only 500 liters and one unique recipe in each edition, this Mezcal is truly special.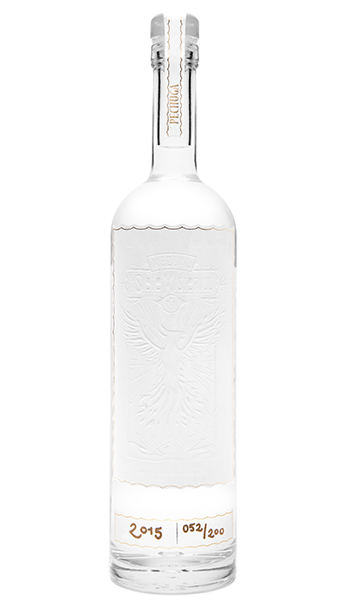 PECHUGA 54%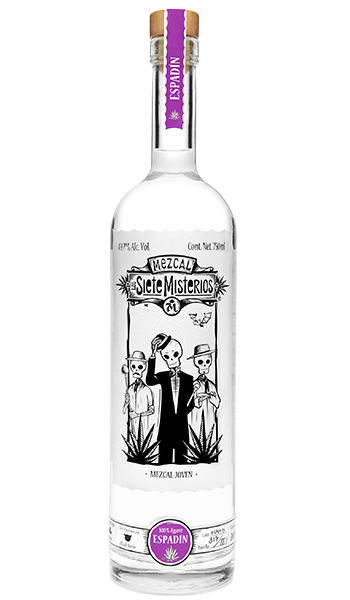 ESPADIN
The Espadín Mezcal was our first product. After learning from Maestros Mezcaleros across Mexico, we crafted the most traditional production process. We noticed distillates in Sola de Vega had a sweeter and spicier feature compared to other villages, so we decided to produce our own Mezcal there and explored the concept "from seed to the bottle." Our Espadín Mezcal displays rich minerality with notes of avocado leaf, fresh herbs, flowers, and citrus.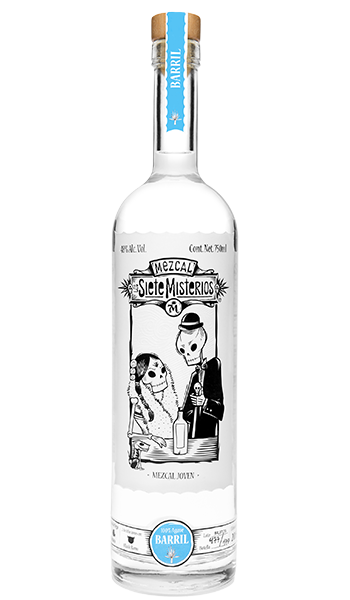 BARRIL
After presenting our first Mezcal, we wanted to explore the other agave varieties Sola de Vega had to offer. The Barril agave, named after its resemblance to a barrel once cut, looks more like a tree than agave. Yet it offers rich earthy and herbal tones, contrasting nicely with the Espadín. The Barril Mezcal features these tones alongside notes of pistachio and preserved fruits.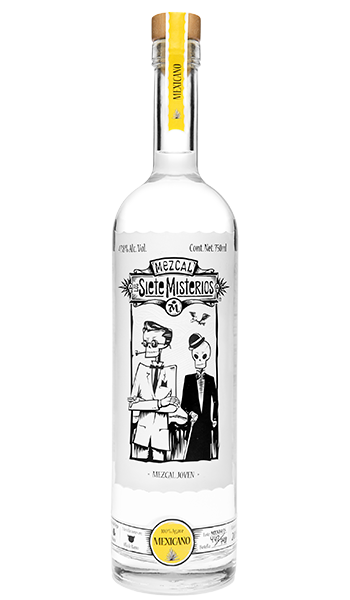 MEXICANO
As we experimented with new expressions, we decided to roast the relatively unknown Mexicano agave. It closely resembles the Espadín agave but is very difficult to find. In fact, after five years, we produced less than 1,000 bottles. We discovered it provides a perfect balance between the Espadín and Barril expressions. This unique expression evokes a harmony of herbs, fresh grass, papaya, smoked wood, wet earth, and Mexico's beloved piloncillo.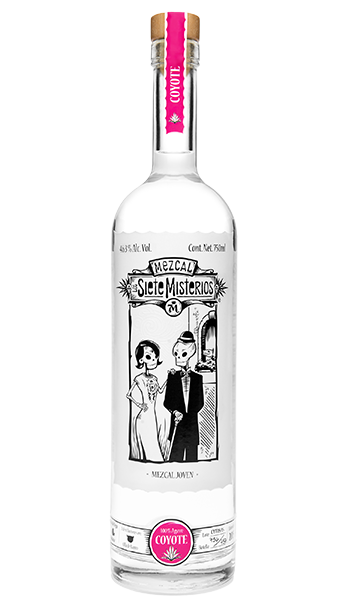 COYOTE
The next unique and rare agave we distilled is the Coyote. Maestro Mezcalero Don Antonio explained Coyote and Arroqueño agaves are close relatives and are often confused as the same agave. They are almost identical with minor differences only a dedicated connoisseur can appreciate. However, Don Antonio emphasized they have completely different taste profiles. The Coyote has more herbal notes and has become one of the most iconic Mezcals we carry.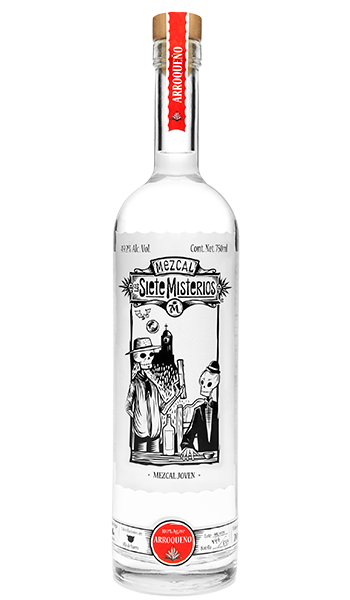 ARROQUEÑO
As we increased our agave range, we knew we wanted to create Mezcal from the Americana var, one of the oldest and large agaves. Oaxacensis, an agave of large wingspan, can take between 12 to 25 years to grow depending on the region. This Mezcal is an icon of Siete Misterios and championed by many as their favorite. Soft and aromatic, our Arroqueño Mezcal beautifully expresses notes of citrus and walnut with an earthy minerality.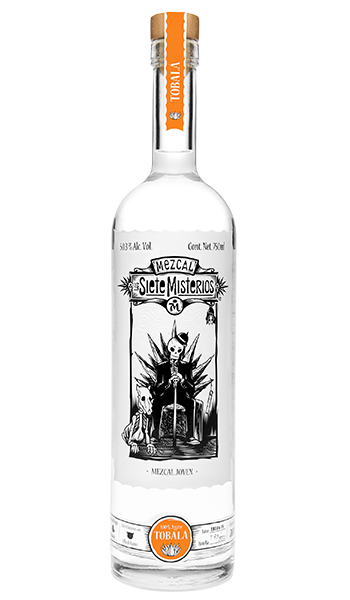 TOBALA
Sola de Vega is best known for two things: as the birthplace of "La Chilena," a type of regional music, and the Mezcal Tobalá. People travel from all over Mexico to get this distillate. Tobalá is the crown jewel of Mezcal because of its beauty, rarity, and unique taste. It resembles the bud of a rose and unlike other agaves with "hijuelos," seedlings sprouting from the mother plant, it only reproduces by seed. Since it is difficult to propagate, it is mostly found growing in remote locations. We are one of the few Mezcaleros to harvest and cook the Tobalá agave. Those lucky enough to experience it fall in love with its magnificent taste.
Send us a message, we want to hear from you!